Thông tin doanh nghiệp
Chuyên môn của chúng tôi
Khoa Học & Công Nghệ
I. WHAT IS INNOVATION START-UP?
According to the Prime Minister's Decision No. 844 / QD-TTg on approving the project "Supporting a national innovation start-up ecosystem until 2025" (Project 844) , innovative startups Creation is "a type of enterprise capable of rapid growth based on exploitation of intellectual property, new technology, business model, and has an operation period of not more than 5 years from the date of issuance of the Certificate. first business registration ".
In the 2012 Startup Report , the Organization for Economic Co-operation and Development (OECD) also pointed out that innovative entrepreneurship is associated with "seeking to create value, through the creation or expansion of economic dynamism, by identifying and discovering new "products, processes or markets"
II. WHAT IS THE STARTUP ECOLOGY?
In the 2013 Global Entrepreneurship Ecosystem and its Growth Impacts , the World Economic Forum (WEF) defines the startup ecosystem as "a system of related pillars. each other affects the ability of business owners to create and expand venture capital activities in a sustainable way. "
The startup ecosystem is understood more specifically and in more detail in the  2014 Startup Report of the OECD. This is "a collection of formal and informal linkages between startups (existing or potential), start-ups (e.g. companies, venture capitalists, investors). angel private, the banking system), related agencies (universities, state agencies, public investment funds) and the start-up process (enterprise establishment rate, number of businesses with Good growth rates, number of entrepreneurs, sales spirit and entrepreneurial ambitions) have a direct impact on the local startup environment ".
III. PROJECT 844 – SUPPORTING ECONOMIC SYSTEM IN STARTING NATIONAL innovation UNTIL 2025
Project "Supporting the national innovation start-up ecosystem to 2025" (Project 844) – ISEV approved by the Prime Minister according to Decision 844 / QD-TTg dated May 18, 2016 marking a Government to develop an innovative startup ecosystem.
Project 844 (ISEV) aims to create a favorable environment to promote and support the formation and development of a fast-growing enterprise based on the exploitation of intellectual property, technology, new business model; Urgently perfect the legal system to support innovative startups; National Innovation Startup Portal has been established.
By 2025, Project 844 (ISEV) is expected to support the development of 2,000 creative innovation start-ups; 600 innovative start-ups; 100 enterprises participating in the Project called for investment capital from venture capitalists, implemented mergers and acquisitions, with a total estimated value of about 2,000 billion VND.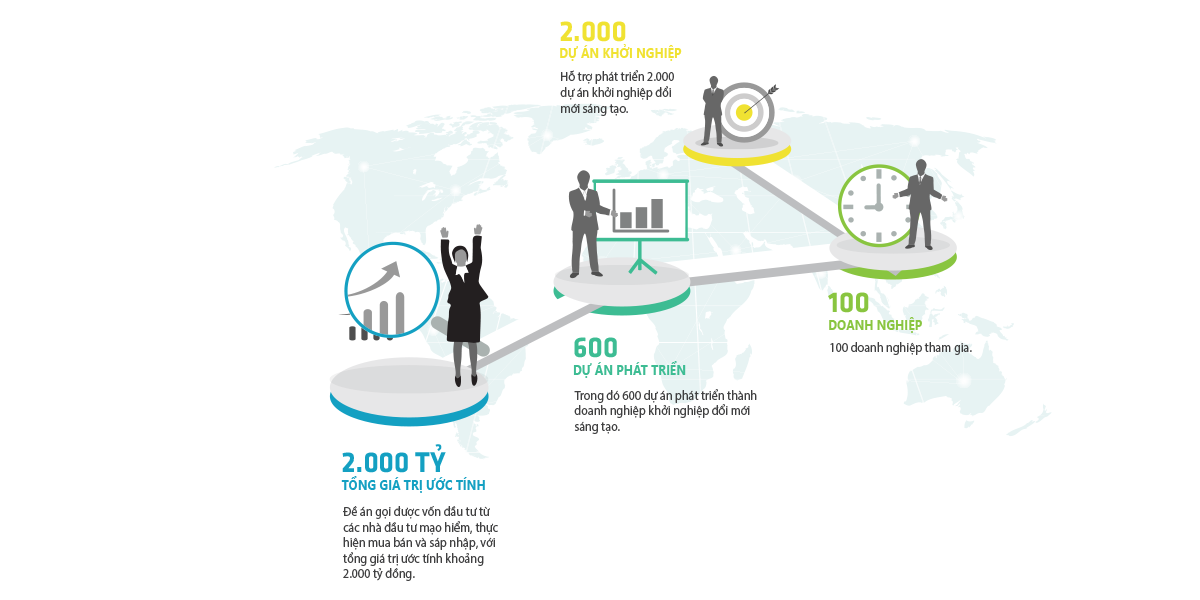 1. FOCUS ACTIVITIES
To implement Project 844 (ISEV), ministries, branches and localities can appoint a focal point to advise the Minister / Chairman of the People's Committee of provinces or centrally-run cities or establish a Steering Committee, Office of the Steering Committee, Working Group to implement the Project at local
Along with that, the Project 844 management agencies at the Ministry of Science and Technology organize the selection of a qualified startup intermediary organization to receive partial funding for the implementation of the annual tasks, Periodically under Project 844 regarding the following contents:
Training and capacity building for ecosystem actors.

Support and promote service delivery activities for innovative startups.

Support and promote activities to link all actors in the innovative startup ecosystem between regions, domestically and internationally.

Supports and promotes innovative entrepreneurship communications.

Research, recommend and build legal bases related to innovation startups in Vietnam.
2. PROJECT MANAGEMENT AGENCY 844
The Project 844 Executive Board is an organization that has the task of assisting the Minister of Science and Technology in orienting the implementation, participating in the inspection, supervision and evaluation of the implementation of Project 844. The Executive Board Project 844 is established by decision of the Minister of Science and Technology and defines the functions and tasks.

The Science and Technology Enterprise Market Development Department is the unit managing the task ordered by the Ministry of Science and Technology.

The Office of National Science and Technology Programs directly under the Ministry of Science and Technology is responsible for managing annual and periodical budgets under Project 844.

The Department of Planning and Finance under the Ministry of Science and Technology is responsible for synthesizing plans and allocating funding for the implementation of the tasks under Project 844 ordered by the Ministry of Science and Technology.

The Project 844 Office is the professional assisting unit for the Project Steering Committee.
3. SUBJECTS MAY JOIN PROJECTS 844
Universities, research institutes.

Organizations that provide training and coaching activities for entrepreneurs

The CCP, the coach, the creative entrepreneur, the entrepreneur, the entrepreneur, the manager.

An organization that provides services for creative innovation.

Organizing media for the startup of the CCP.

Innovative startup business incubator.

Business promotion organization.
4.
BENEFITS WHEN PARTICIPATING IN PERFORMANCE OF SUBJECT SUBJECT 844
The startup intermediary selected to participate in the implementation of Project 844's tasks will:
Receive partial funding for implementing the mission approved by the Ministry of Science and Technology.

There are opportunities to link and connect with the actors of the national and international innovation startup ecosystem.

Contribute to the development of a national innovation start-up ecosystem, becoming an important driving force for socio-economic development and international integration.

Connecting domestic and foreign experts in innovation, science and technology, finance, investment …

There are opportunities to propose difficult issues from practical implementation, propose solutions to the Government leaders, leaders of ministries, branches and localities.
5. HOW TO PARTICIPATE GET SUPPORT FROM TOPIC 844
Entrepreneurship support organizations and intermediaries participating in Project 844 will go through 3 main phases:
Participate in task proposition : Organizations, units that follow up notice call for submission of proposals The Ministry of Science and Technology and proactively proposes tasks that the organization deems necessary to develop the ecosystem at the time of calling.
Submit the task implementation dossier : After consolidating the proposed tasks, the Ministry of Science and Technology will issue a list of tasks . Organizations and units monitor this list to submit dossiers (including: explanations, cost estimates and documents proving capacity as required) to the Ministry of Science and Technology.
Approval and implementation: The Ministry of Science and Technology will establish a council to evaluate and approve the records of the units. If approved, organizations and units will be able to sign implementation contracts under the monitoring and evaluation of the Ministry of Science and Technology.
Approved tasks will roll out within 12 months of signing.
IV. ABOUT THE SUBJECT OFFICE 844
Project Office "Supporting the national innovation startup ecosystem to 2025" (hereinafter referred to as Project 844 Office), directly directed by the Project Executive Board, the Executive Board to organize the implementation of the Scheme.
The Project 844 office is responsible for providing expert advice and building an overall plan for the Project implementation, in which the main activities are: 
Manage tasks under Project 844: call for proposals for lists of tasks annually and periodically; participate in the selection and guidance activities to participate in Project 844; supervise and evaluate the volume of implementing tasks under Project 844 of the units.

Build a national database on the startup ecosystem and provide information for start-up support organizations

Develop reports on an innovative startup ecosystem

Link and connect countries Innovative Entrepreneurship

Guide ministries, agencies and localities to implement Project 844 and creative innovation ecosystem development activities

Organize and coordinate to organize innovative startup events Create

Research and advise on mechanisms and policies to support innovative startups
1. Promote the development of a Creative Entrepreneurship culture and link the components of the Startup Ecosystem in Vietnam 
One of Project 844's annual activities aimed at developing a creative startup culture and linking the elements of the startup ecosystem in Vietnam is to organize the National Innovation Start-up Festival. – TECHFEST VIETNAM and coordinating the implementation of activities and programs of organizations and units involved in implementing tasks under Project 844.
With the fact that many Vietnamese startups have successfully raised capital from foreign investors, many startups cannot find resources for their creative ideas, that is the reason "Innovation start-up festival Techfest Vietnam was born to strengthen the connection of the domestic creative startup community with international investors. Techfest Vietnam 2018 is an activity to promote domestic and foreign investment attraction for startups, advice on innovation policies, honor startups and organizations that make positive contributions to the community. start-up … Techfest Vietnam 2018 has attracted nearly 5,500 participants, more than 160 investment connections have been made; 250 start-ups participated in demonstrating and displaying their products; More than 600 enterprises participated in the National Creative Startup Contest.
In addition, over the past years, Project 844 Office has selected and instructed intermediary organizations to support startups such as Hanoi National University; Vietnam Silicon Valley Accelerator; Hanoi Bach Khoa Technology Development and Investment One Member Limited Company (BK-Holdings), UP Development Joint Stock Company (UP); Youth Entrepreneurship Support Center (BSSC), etc., perform the tasks under the Project, bringing the results of training, association, communication effectively serving the ecosystem.
2. Promote international cooperation for creative innovation startups
"The numb
er of transactions with the participation of international investors accounts for more than 30% of the total number of transactions but the value of investment from international is much larger than domestic investment. But it is very important to attract resources, promote international cooperation, and connect with the international ecosystem to support Vietnamese creative startups, especially when Vietnamese startups are increasingly attractive to investors. In the coming time, Project 844 aims to expand regional, inter-regional, national and international connections to attract human resources for Vietnamese innovation startups; study and develop visa policies for Foreign individuals come to Vietnam to build innovative startups, invest in and seek investment opportunities for innovative and innovative startups. "
3. Support to develop favorable mechanisms, policies and legal corridors to support startups
According to Mr. Pham Dung Nam, in the past time, there have been many timely policies issued in the field of creative innovation, the Ministry of Science and Technology has presided over and coordinated with relevant ministries and agencies to create an environment. favorable institutions and policies to develop an innovative start-up ecosystem with the development and issuance of Circular No. 01/2018 / TT-BKHCN dated April 12, 2018 on the organization and management of Project 844; coordinate to participate in the development of content on creative startups and investment in creative startups in the 2017 Law on Small and Medium Enterprises Support and Decree No. 38/2018 / ND-CP on Investment in Small Enterprises and just a creative start-up.
In addition, the Ministry of Science and Technology has participated in the development of content on supporting creative startups and investing in creative startups from the Science and Technology Development Fund of enterprises in Decree No. 76/2018. / ND-CP of the Government detailing and guiding the implementation of a number of articles of the Law on Technology Transfer; proposing solutions to attract domestic and foreign creative startups investment in Official Dispatch No. 666 / BKHCN-PTTTDN dated March 19, 2018; 
---
Mr. Pham Dung Nam – Director of the Office of Project 844

Mr. Tu Minh Hieu – In charge of policy research synthesis.

Mr. Nguyen Viet An – In charge of management and support for Project 844 tasks.
OFFICE OF SUBJECT 844 (ISEV)
Room 402, Ministry of Science and Technology, 113 Tran Duy Hung, Cau Giay, Hanoi.
www.facebook.com/vanphongdean844/
http://dean844.most.gov.vn/